It's a Mystery 2018 Border Creek Station (On Going)


Join us for a 8 month- quilt mystery. There are two sizes to choose from as well as 2 fabric lines. The single size is 70x98 and the queen is 104x104. The two fabric lines are La Vie en Rouge from French General in taupes and reds with subtle green on a vine, and Portsmouth from Minick & Simpson in white, blue, and a pop of red. With this mystery you purchase your kit up front and receive your patterns monthly. Cost for the single is $144.95, and cost for the queen is $204.95. If you want to participate and get only the pattern, it will be $50.
---
Lush (On Going)
Tonga Lush Block of the Month designed by Wing and a Prayer featuring "Lush" Tonga Batiks by Timeless Treasures. The 2018 Tonga Lush collection features fourteen fabrics in a palette of creams shading to soft blush, rose into burgundy, and vivid greens all nested in a navy-blue base. The Lush Block-of-the-Month quilt, 108" square, was designed to showcase this beautiful collection. The Dresden blocks are made with curved pieced handles and fnished points for simple appliqué by machine or hand. The blooming center block points are easily made with Creative Grids ruler or the paper templates included with the pattern. Throughout the quilt the classically pieced blocks are enhanced by unique color placement.
---
Bel Canto
(On Going)

Bel Canto means "beautiful singing" in Italian. This program will have your sewing machine singing an opera of its own! From Daniela Stout, this warm, inviting design comes together quickly by using strip sets to make the six different block sets, then finishing instructions and fabrics. In just seven short months, you have a king-sized quilt that will have you singing your own bel canto. It's bellissimo! The finished quilt measures 110" x 110.Cozy Quilt uses 2 1/2" strips and yardage from new Timeless Treasure batiks. The actual colors are Navy, blue, tans, and golds (the picture does not show the true colors). This is a 7-month BOM. Cost will be $45 per month.
---
2018 Embroidered Block of the Month – Hoopsisters (On Going)
Join us in celebrating Hoopsisters 10 year anniversary by doing this 10-month BOM. This quilt is a gorgeous 2 fabric quilt. It is available in 5", 6", 7", 8", and 9" block sizes. We will be including the border with our program. Monthly cost is $18.00 per month. There is still availability to participate.
---
Hello Sunshine – Kimberbell (On Going)
Hello Sunshine! Hello bicycle days! Hello pinwheels and pineapple! Hello to our favorite new quilt! Dimensional embellishments like chenille, fringe and felt flowers, even pinwheels and Mylar balloons are made -in-the-hoop. Learn Kimberbell's easy method for prairie points, ruching, and piecing the windmill block in the 10-month block of the month. Approximate cost $16.50 for Sewing version and $21.99 for Embroidery version. Quilt finishes 52x67.
---

Beach Bound (Upcoming)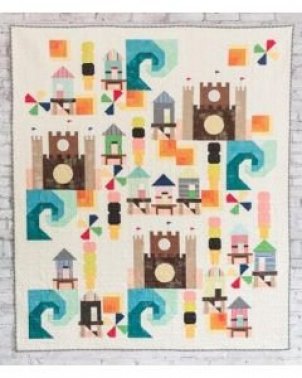 Join us for a 7 month program! Each month we will make a set of fun, cute, quick and easy vacation themed blocks from the talented duo of Inspiring Stitches, Heather Valentine and Amy Ellis. Finished quilt size is 66" by 78". Program begins in January 2019.

Program includes pattern and all fabric for top and binding.

Cost per month is $24.99










---


Broomhilda's Bakery (On Going)




Join us this fall making Broomhilda's Bakery from Kimberbell. Finished quilt size is 51 x 64. Embroidery version will run $21.99 per month and the sewing version will be $16.50. There will be a optional embellishment kit available for you to purchase.